Add products to your shopping cart
#286787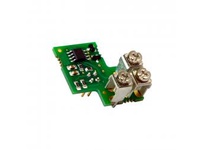 Image for Illustration purposes only. Actual product may vary
Typically ships in:

1 day

Weight:

1.0 lb

Contact supplier for technical support on:

877-432-9908
$134.00 Each
Select Quantity
Additional Description
Description
The CUB5T provides the ultimate in timer flexibility, from its complete user programming to the optional relay output and serial communications capability. The meter functions as an Elapsed Timer or Preset Timer. It also has a built-in Cycle Counter. The display can be toggled either manually or automatically between the Timer and Cycle Counter values. With eight different input operating modes and 18 selectable timer ranges, the meter can be programmed for a wide variety of timing applications.
The CUB5T has an LCD display with 0.46' (11.7 mm) high digits. The unit has a backlight which is user selectable for red or green backlighting with variable display intensity.
The Timer has two signal inputs and eight input operating modes. These modes provide level active or edge triggered start/stop operation. A Display Hold mode will display the elapsed time for one cycle, while the next cycle continues timing internally. The Timer Reset modes will automatically reset the timer value when a time start edge is applied to the input. This allows sequential timing cycles without having to manually reset the Timer.
In addition to the Timer inputs, a programmable User Input is available to perform a variety of meter functions. All inputs are current sinking (active low) and accept a variety of logic and open-collector output signal sources. Relay and switch contacts can also be used as signal sources, when the software input debounce filter is enabled.
The capability of the CUB5T can be easily expanded with the addition of a field installable option module. When the CUB5RLY0 relay output module is added, the meter becomes a Preset Timer. The Setpoint Output can be assigned to the Timer or Cycle Counter values, and configured to suit a variety of control and alarm requirements. Serial communications capability for RS232 or RS485 is added with a serial option module (CUB5COM).
The CUB5T can be powered from an optional Red Lion Micro-Line/Sensor Power Supply (MLPS1000), which attaches directly to the back of a CUB5T. The MLPS1 is powered from an 85 to 250 VAC source and provides up to 400 mA to drive the meter and sensors.
Specifications
Preset Timer and Cycle Counter
Red LED w/Backlighting
0.46" (11.7 mm) High Digits
7-Digit Bi-Directional Timing Capability
6-Digit Cycle Counting Capability
Optional Serial Communication Modules (RS-232 or RS-485)
Optional Setpoint Card available (Dual Sink or Relay)
Optional USB Programming Card available
Selectable Timer Ranges and Operating Modes
Elapsed Timer and Preset Timer Functionality
Display Color Change Capability at Preset Output
Operates from 9 to 28 VDC Power Source
NEMA 4X/IP65 Sealed Front Bezel
Accessories
| | |
| --- | --- |
| ENC80000 | ENC8 Steel NEMA 4 Enclosure for CUB4, CUB5 and DT8 |
| ENC8A000 | ENC8A Plastic NEMA 4X Enclosure for CUB4, CUB5 and DT8 |
| ENC8B000 | ENC8B Plastic NEMA 4X Enclosure CUB4, CUB5 and DT8 use with MLPS |
| TCM10000 | TCM1 Triac Converter Module, 115 VAC |
| VCM10000 | VCM1 Voltage Converter Module, 450 V AC/DC |
| VCM20000 | VCM2 Voltage Converter Module, 50270 V AC/DC |
| BMK11000 | BMK11 CUB5 or MLPS DIN Rail Base Mount Adapter Kit |
| BMK60000 | BMK6 Open Base Mount Kit for CUB4, CUB5 & DT8 |
| BMK7A000 | BMK7A Closed Base Mount Kit for CUB5 with MLPS |
| PMK6A000 | PMK6A Panel Mount Adapter Kit (1/8 DIN to CUB5) |
| PMK7A000 | PMK7A Panel Mount Adapter Kit (1/4 DIN to DT8 CUB4 CUB5) |
| CUB5COM1 | CUB5COM RS485 Serial Communication Card for CUB5 |
| CUB5COM2 | CUB5COM RS232 Serial Communication Card for CUB5 |
| CUB5RLY0 | CUB5RLY Single Relay Option Card for CUB5 |
| CUB5SNK0 | Dual Sinking Output Card |
| CUB5USB0 | CUB5USB CUB5 USB Programming Card |
| MLPS1000 | MLPS1 12 VOC Micro Line Sensor Power Supply, 85250 VAC |
| MLPS2000 | MLPS2 24 VDC Micro Line Power Supply, 85250 VAC |
| SNUB0000 | SNUB RC Snubber Inductive Load Supressor |