Add products to your shopping cart
#28352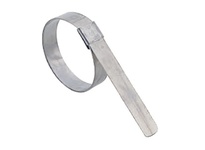 Image for Illustration purposes only. Actual product may vary
Brand:

Band-It

Model:

CP1099

Condition:

NEW

SKU:

28352
CP1099 Center Punch Clamp GCS 5/8" x .025" 2-1/2" Diameter
Typically ships in:

3 days

Weight:

5.8 lb
$32.76 Each
Unit of measure: each
Returnable: See conditions
Payment methods:
Additional Description
Lock with impact from a hammer using a conical punch.
Double wrapped using 201 stainless steel or galvanized carbon steel.
Manufactured with thicker 201 stainless steel buckles than competitive clamps to provide added locking strength.
Not recommended for use with fittings that may crack as a result of impact.
Specifications
201 SS*
Part No.
GCS*
Part No.
Width
Thickness
Inside
Diameter
Package
Quantity
Package
Weight
Applicaion
Tools
In
mm
In
mm
In
mm
Lbs
Kg
CP3S99
CP0399
3/8
9.6
0.025
0.64
13/16
20
100 / Box
3.6
1.6
S03869
T30069
CP311S
CP3119
3/8
9.6
0.025
0.64
1-3/8
35
100 / Box
4.6
2.1
CP4S99
CP0499
5/8
15.9
0.025
0.64
1
25
100 / Box
8.3
3.8
S03869
T30069
SM1700
SET9000
CP5S99
CP0599
5/8
15.9
0.025
0.64
1-1/4
32
100 / Box
8.7
4.0
CP6S99
CP0699
5/8
15.9
0.025
0.64
1-1/2
38
100 / Box
9.7
4.4
CP7S99
CP0799
5/8
15.9
0.025
0.64
1-3/4
44
100 / Box
10.6
4.8
CP8S99
CP0899
5/8
15.9
0.025
0.64
2
51
100 / Box
11.5
5.2
CP9S99
CP0999
5/8
15.9
0.025
0.64
2-1/4
57
100 / Box
12.6
5.7
CP10S9
CP1099
5/8
15.9
0.025
0.64
2-1/2
64
50 / Box
6.8
3.1
CP11S9
CP1199
5/8
15.9
0.025
0.64
2-3/4
70
50 / Box
7.3
3.3
CP12S9
CP1299
5/8
15.9
0.025
0.64
3
76
50 / Box
7.7
3.5
CP14S9
CP1499
5/8
15.9
0.025
0.64
3-1/2
89
50 / Box
8.7
4.0
CP16S9
CP1699
5/8
15.9
0.025
0.64
4
102
25 / Box
4.9
2.2
CP18S9
CP1899
5/8
15.9
0.025
0.64
4-1/2
114
25 / Box
5.5
2.5
CP20S9
CP2099
5/8
15.9
0.025
0.64
5
127
25 / Box
5.9
2.7
CP24S9
CP2499
5/8
15.9
0.025
0.64
6
152
25 / Box
6.8
3.1
CP26S9
CP2699
5/8
15.9
0.025
0.64
6-1/2
165
25 / Box
7.1
3.3
CP28S9
CP2899
5/8
15.9
0.025
0.64
7
178
25 / Box
7.4
3.4
S03869
T30069
CP32S9
CP3299
5/8
15.9
0.025
0.64
8
203
25 / Box
8.2
3.7
| | |
| --- | --- |
| Max Clamp Dia | 2.5" |
| Width | 5/8 |
| Material | GCS |
| Thickness | .025" |