Add products to your shopping cart
#28733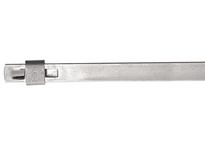 Image for Illustration purposes only. Actual product may vary
Brand:

Band-It

Model:

KE0388

Condition:

NEW

SKU:

28733
Typically ships in:

3 days

Weight:

4.6 lb

MOQ:

2
$203.99 Each
Select Quantity
Additional Description
Band-It KE0388
Hose clip or a hose clamp is seal and a device used to attach a hose onto a fitting such as nipple or a barb. Many sorts can be found, including :
Screw clamps include a galvanized or stainless steel band into which a screw thread design pressed or was cut. One end of the band features a captive screw. The clamp is set around tube or the hose to be linked, with the loose end being fed into a narrow space between the captive screw and the group. Screw clamps are typically used for hoses 1/2 upwards, with other clamps used for smaller . that were hoses
As an easy means for the transmission of small quantities of electricity they are able to additionally be used in the same way. A short amount of hose is cut between two shafts where variations or shaking in alignment may be taken up by the flexibility of the hose. This technique is well adapted to use for mockups in a development lab.
Spring clamps are especially suited for enclosed or otherwise inconvenient areas where other clip kinds would need tightening tools used from potentially inaccessible and narrow angles. It has made them especially popular for uses like automotive engine bays and for fixing barb connections in PC water cooling.
Wire clamps include a piece of heavy wire, usually first bent into a tight U, steel, subsequently formed into a ring shape with one end and ultimately the ends bent outwards and cut. A prisoner nut is attached to one end, and a captive screw to another.
Specifications
Ball Lok Ties Uncoated
Part #
Coated / Uncoated
Material*
Width
Length
Base Material Thickness
Maximum Diameter Single Wrap
Minimum Loop Tensile Strength (Lbs)
Package Quantity
Package weight
In
mm
In
mm
In
mm
In
mm
Lbs
Kg
KE1128
Uncoated
304 SS
0.180
4.6
7.9
201
0.010
0.25
2.0
50
200
100 / Bag
0.6
0.3
KE1138
Uncoated
304 SS
0.180
4.6
10.2
259
0.010
0.25
2.7
69
200
100 / Bag
0.7
0.4
KE1148
Uncoated
304 SS
0.180
4.6
14.2
360
0.010
0.25
4.0
102
200
100 / Bag
0.9
0.5
KE1158
Uncoated
304 SS
0.180
4.6
20.4
520
0.010
0.25
6.0
152
200
100 / Bag
1.3
0.6
KE1168
Uncoated
304 SS
0.180
4.6
26.8
679
0.010
0.25
8.0
203
200
100 / Bag
1.8
0.8
KE1178
Uncoated
304 SS
0.180
4.6
33.0
838
0.010
0.25
10.0
254
200
100 / Bag
2.1
1.0
KE1188
Uncoated
304 SS
0.180
4.6
42.0
1067
0.010
0.25
12.0
305
200
100 / Bag
2.4
1.1
KE0128
Uncoated
316 SS
0.180
4.6
7.9
201
0.010
0.25
2.0
50
200
100 / Bag
0.6
0.3
KE0138
Uncoated
316 SS
0.180
4.6
10.2
259
0.010
0.25
2.7
69
200
100 / Bag
0.7
0.4
KE0148
Uncoated
316 SS
0.180
4.6
14.2
360
0.010
0.25
4.0
102
200
100 / Bag
0.9
0.5
KE0158
Uncoated
316 SS
0.180
4.6
20.4
520
0.010
0.25
6.0
152
200
100 / Bag
1.3
0.6
KE0168
Uncoated
316 SS
0.180
4.6
26.8
679
0.010
0.25
8.0
203
200
100 / Bag
1.8
0.8
KE0178
Uncoated
316 SS
0.180
4.6
33.0
838
0.010
0.25
10.0
254
200
100 / Bag
2.1
1.0
KE0188
Uncoated
316 SS
0.180
4.6
42.0
1067
0.010
0.25
12.0
305
200
100 / Bag
2.4
1.1
KE1328
Uncoated
304 SS
0.310
7.9
7.9
201
0.010
0.25
2.0
50
300
100 / Bag
1.0
0.5
KE1338
Uncoated
304 SS
0.310
7.9
10.2
259
0.010
0.25
2.7
69
300
100 / Bag
1.3
0.6
KE1348
Uncoated
304 SS
0.310
7.9
14.2
360
0.010
0.25
4.0
102
300
100 / Bag
1.7
0.8
KE1358
Uncoated
304 SS
0.310
7.9
20.4
520
0.010
0.25
6.0
152
300
100 / Bag
2.2
1.1
KE1368
Uncoated
304 SS
0.310
7.9
26.8
679
0.010
0.25
8.0
203
300
100 / Bag
2.9
1.3
KE1378
Uncoated
304 SS
0.310
7.9
33.0
838
0.010
0.25
10.0
254
300
100 / Bag
3.5
1.6
KE1388
Uncoated
304 SS
0.310
7.9
42.0
1067
0.010
0.25
12.0
305
300
100 / Bag
4.6
2.1
KE0328
Uncoated
316 SS
0.310
7.9
7.9
201
0.010
0.25
2.0
50
300
100 / Bag
1.0
0.5
KE0338
Uncoated
316 SS
0.310
7.9
10.2
259
0.010
0.25
2.7
69
300
100 / Bag
1.3
0.6
KE0348
Uncoated
316 SS
0.310
7.9
14.2
360
0.010
0.25
4.0
102
300
100 / Bag
1.7
0.8
KE0358
Uncoated
316 SS
0.310
7.9
20.4
520
0.010
0.25
6.0
152
300
100 / Bag
2.2
1.1
KE0368
Uncoated
316 SS
0.310
7.9
26.8
679
0.010
0.25
8.0
203
300
100 / Bag
2.9
1.3
KE0378
Uncoated
316 SS
0.310
7.9
33.0
838
0.010
0.25
10.0
254
300
100 / Bag
3.5
1.6
KE0388
Uncoated
316 SS
0.310
7.9
42.0
1067
0.010
0.25
12.0
305
300
100 / Bag
4.6
2.1
Coated
KE0228
Coated
316 SS
0.180
4.6
7.9
201
0.010
0.25
2.0
50
150
100 / Bag
0.6
0.3
KE0238
Coated
316 SS
0.180
4.6
10.2
259
0.010
0.25
2.7
69
150
100 / Bag
0.7
0.4
KE0248
Coated
316 SS
0.180
4.6
14.2
360
0.010
0.25
4.0
102
150
100 / Bag
1.0
0.5
KE0258
Coated
316 SS
0.180
4.6
20.4
520
0.010
0.25
6.0
152
150
100 / Bag
1.4
0.7
KE0268
Coated
316 SS
0.180
4.6
26.8
679
0.010
0.25
8.0
203
150
100 / Bag
1.8
0.8
KE0278
Coated
316 SS
0.180
4.6
33.0
838
0.010
0.25
10.0
254
150
100 / Bag
2.3
1.1
KE0428
Coated
316 SS
0.310
7.9
7.9
201
0.010
0.25
2.0
50
175
100 / Bag
1.1
0.6
KE0438
Coated
316 SS
0.310
7.9
10.2
259
0.010
0.25
2.7
69
175
100 / Bag
1.5
0.8
KE0448
Coated
316 SS
0.310
7.9
14.2
360
0.010
0.25
4.0
102
175
100 / Bag
1.8
0.8
KE0458
Coated
316 SS
0.310
7.9
20.4
520
0.010
0.25
6.0
152
175
100 / Bag
2.4
1.2
KE0468
Coated
316 SS
0.310
7.9
26.8
679
0.010
0.25
8.0
203
175
100 / Bag
3.1
1.4
KE0478
Coated
316 SS
0.310
7.9
33.0
838
0.010
0.25
10.0
254
175
100 / Bag
3.8
1.2
Notes
* BAND-IT reserves the right to substitute material with equal or better corrosion resistance and/or mechanical specifications.
Instructions
Ball- Lok Ties Installation Instructions
PDF
Why does BAND-IT offer coated cable ties and band?
PDF
Application Tools
K50289 - Ball-Lok Tool
| | |
| --- | --- |
| Width | 5/16 |
| Length | 42" |
| Material | 316SS |
| Thickness | .01" |