Add products to your shopping cart
#28779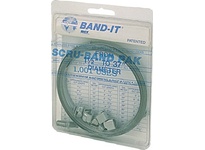 Image for Illustration purposes only. Actual product may vary
Brand:

Band-It

Model:

M15899

Condition:

NEW

SKU:

28779
Typically ships in:

3 days

Weight:

4.5 lb
OBSOLETE
Please call 888-671-2883 for Replacement info
Additional Description
Band-It M15899
Industrial hoses are used in a variety of sectors and applications and their uses are vast. Some of the businesses they can be used in include:
There are a variety of kinds of fittings and hoses to satisfy just about any intent or use. These can vary from tiny hoses including the garden hose that is generally seen, to hydraulic hoses and big diameter ducting.
Due to the numerous kinds of hoses and uses, addititionally there is a vast variety of fittings and clamps and other hose connected accessories that might have to be considered when rigging up a hose system that is even straightforward or complex.
· Atmosphere fittings:
· Bandit clamps: Faucet clamps: Screw clamps
· Metal: Hydraulic: Ducting: PVC
· Gauges
· Hose: Hose reels
· Gaskets: Valves
Industrial hoses are an essential piece of gear for instance, in some sectors; they may be used to transport such significant materials including gas, oil as well as hot pitch. Other heavy duty uses contain transporting sand, dry cement and mud.
Specifications
Scru-Band Features

A rack pinion system with band to create any size clamp.
Components separately packaged rack and housing and band for flexibility.

Product
Description
Package Quantity
Weight
Lbs
Kg
M15099
Scru-Band Housing, 301 SS, Screw 410 SS
100 / Box
2.8
1.3
M15599
Scru-Band Housing, 301 SS, Screw 410 SS
25 / Box
0.7
0.3
M15199
Scru-Band, 430SS 3/8" (9.5mm) x .025" (.64mm)
100' Roll
3.4
1.6
Kits
M15699
Scru-Band Kit includes: 100' of Scru-Band, 25 housings, 25 slotted screws
Each
4.0
1.8
M15799
Scru-Band Kit includes: 50' of Scru-Band, 10 Housings, 10 slotted screws
Each
2.1
1.0
M15899
Each Pak includes: 10' of Scru-Band, 5 housings, 5 slotted screws
10 Paks / Box
4.4
2.0
Instructions
Application Tools
Screwdriver