Add products to your shopping cart
#28883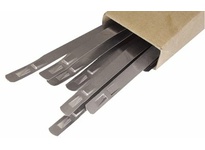 Image for Illustration purposes only. Actual product may vary
Brand:

Band-It

Model:

UL1106

Condition:

NEW

SKU:

28883
UL1106 Ultra-Lok Band 201SS 1/4 Hard 1/2" x .03" x 106"
Typically ships in:

3 days

Weight:

12.3 lb

MOQ:

4
$202.92 Each
Select Quantity
Additional Description
Apple four times faster than band and buckle with hand tools!
Form band lock under full tension, meaning less slipage.
Correct assembly guided by matching arrow indicators on band and buckle.
Offer good resistance to oxidation and many moderate corrosive agents.
201 1/4 hard SS band provides greater material strength allowing tighter clamps and can be double wrapped for additional strength.
3/4" band available in plastic tote with buckle storage area, 1/2" band available in cardboard boxes.
Application Tools: UL4000 Ultra-Lok rechargeable portable tool and UL9010 Ultra-Lok 110-volt AC, Corded electric tool.
Specifications
Band Width
Maximum Clamp Diameter
Band Length
Package Quantity
Package Weight
Single Wrap
Double Wrap
Part No.
Material*
In
mm
In
mm
In
mm
In
mm
lbs.
Kg.
UL1018**
201 SS
1/2
12.7
3
76
not suggested
18
457
50/Box
4.1
1.9
UL1024**
201 SS
1/2
12.7
5
127
2.5
64
24
610
50/Box
5.3
2.4
UL1028**
201 SS
1/2
12.7
6
152
3.0
76
28
711
50/Box
6.4
2.9
UL1032**
201 SS
1/2
12.7
7
178
3.5
89
32
813
50/Box
7.2
3.3
UL1036**
201 SS
1/2
12.7
8
203
4.0
102
36
914
50/Box
8.0
3.6
UL1046**
201 SS
1/2
12.7
11
279
5.5
140
46
1168
25/Box
5.9
2.7
UL1056**
201 SS
1/2
12.7
14
356
7.0
178
56
1422
25/Box
7.1
3.2
UL1070**
201 SS
1/2
12.7
18
457
9.0
229
70
1778
25/Box
8.5
3.9
UL1086**
201 SS
1/2
12.7
22
559
11.0
280
86
2184
25/Box
10.2
4.6
UL1096**
201 SS
1/2
12.7
25
635
12.5
318
96
2438
25/Box
11.2
5.1
UL1106**
201 SS
1/2
12.7
28
711
14.0
356
106
2692
25/Box
12.3
5.6
UL1116**
201 SS
1/2
12.7
31
787
15.5
394
116
2946
25/Box
13.3
6.0
UL2020
201 SS
3/4
19.1
4
102
not suggested
20
508
30/Tote
4.3
2.0
UL2024
201 SS
3/4
19.1
5
140
not suggested
24
610
25/Tote
4.1
1.9
UL2028
201 SS
3/4
19.1
6
152
not suggested
28
711
21/Tote
4.3
2.0
UL2032
201 SS
3/4
19.1
7
178
3.5
89
32
813
19/Tote
4.3
2.0
UL2032
201 SS
3/4
19.1
7
178
3.5
89
32
813
19/Tote
4.3
2.0
UL2036
201 SS
3/4
19.1
8
252
4.0
102
36
914
33/Tote
8.2
3.7
UL2040
201 SS
3/4
19.1
10
254
4.5
127
40
1016
30/Tote
7.75
3.5
UL2044
201 SS
3/4
19.1
11
267
5.5
140
44
1118
27/Tote
8.2
3.7
UL2048
201 SS
3/4
19.1
12
305
6.0
153
48
1219
25/Tote
8.2
3.7
UL2052
201 SS
3/4
19.1
13
330
6.5
165
52
1321
23/Tote
8.2
3.7
UL2060
201 SS
3/4
19.1
15
381
7.5
191
60
1524
20/Tote
8.2
3.7
UL2068
201 SS
3/4
19.1
17
445
8.5
216
68
1727
17/Tote
8.2
3.7
UL2076
201 SS
3/4
19.1
20
508
10.0
254
76
1930
15/Tote
8.2
3.7
UL2084
201 SS
3/4
19.1
22
559
11.0
280
84
2134
14/Tote
8.2
3.7
UL2092
201 SS
3/4
19.1
24
622
12.0
305
92
2337
13/Tote
8.2
3.7
UL2120
201 SS
3/4
19.1
32
826
16.0
407
120
3048
10/Tote
8.2
3.7
UL2150
201 SS
3/4
19.1
41
1029
20.5
508
150
3810
8/Tote
8.2
3.7
UL2175
201 SS
3/4
19.1
48
1232
24.0
610
175
4445
7/Tote
8.2
3.7
| | |
| --- | --- |
| Max Clamp Dia | 28" |
| Width | 1/2 |
| Length | 106" |
| Material | 201SS |
| Coating | Hardened |
| Thickness | .03" |