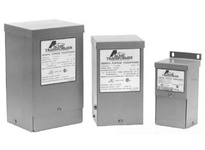 Image for Illustration purposes only. Actual product may vary
BRAND:

ACME

SKU:

885379

CONDITION:

NEW

MODEL:

T181055
T181055 Buck-Boost Transformers Single Phase 60 Hz 120 X 240 Primary Volt 16/32 Secondary Volt
Free shipping on orders over $20
Typically ships in: 3 days
Weight:

5.0 lb
Select Quantity (minimum 3)
Additional Description
T181055
A transformer is an electrical device that transfers electrical energy between several circuits. An electromotive force is produced by electromagnetic induction within a conductor that will be exposed to time varying magnetic fields. Transformers are accustomed to raise or reduce the alternating voltages in electric power uses.

A changing current in the transformer's primary winding creates a changing magnetic flux in the transformer core and a changing field impinging on the secondary winding of the transformer. This changing magnetic field at the secondary winding causes a changing electromotive force (EMF) or voltage in the secondary winding due to electromagnetic induction.

Since the creation of the first continuous potential transformer in 1885, transformers have become vital for the transmission, distribution, and use of alternating current electrical energy.[3] A broad variety of transformer layouts is struck in electronic and electric power uses.
| | |
| --- | --- |
| Out of Package Height (in) | 7.160 |
| Out of Package Width (in) | 3.890 |
| Out of Package Length/Depth (in) | 3.670 |
| Out of Package Weight (lbs) | 5.000 |