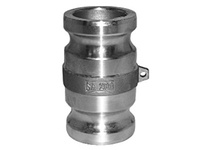 Image for Illustration purposes only. Actual product may vary
Jason AA2030S 2x3 AA SS ADPT x ADPT
Typically ships in: 1 day
Additional Description
Size

2 x 3 in

Material

Stainless Steel

Maximum Working Pressure1

250 psi

Industry Standards

ASTM A666 304
ASTM A666 316

Markets Served

Air
Chemical
Food
Material Handling
Mining
Petroleum (Including Fracking)
Steam
Water

1 Metal coupling pressures are based on ambient temperature (+70 ºF or +21 ºC) with standard NBR gasket.

Coupling body material meets ASTM A666 304 and ASTM A666 316 stainless steel specifications.
304 & 316 Type stainless steel handles, safety pins and rings.
Sizes 3/4", 1", 1-1/4", 1-1/2", 2", 2-1/2", 3", 4" and 6" are manufactured to comply with Mil Spec A-A-59326A. They will interchange with any coupling manufactured to the same standard.
Size 5" complies to an ASTM spec. It will interchange to any other coupling manufactured to the same spec.
The 1/2" size is not specified to any Mil spec.
With the exception of the 1/2" size, all other sizes are supplied with safety pins, which will prevent disconnection during use.
Chemical composition of the alloy is analyzed on every melt.
Especially capable for chemical and food applications.
All sizes may not be stocked in all locations. Check with customer service for availability.
We disclaim any liability for use of our products in applications other than which they are designed.