Add products to your shopping cart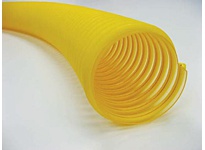 Jason 3050-0300-100 POLYURETHANE CLEAR/YELLOW 3 X 100 GASOLINE AND FUEL VAPOR RECOVERY HOSE WGW
Typically ships in: 1 day
Weight:

0.8 lb
Select Quantity (minimum 100)
Additional Description
Inside Diameter
(I.D.)

3 in
76.20 mm

Outside Diameter
(O.D.)

3.54 in
89.92 mm

Reinforcement

PVC Helix

Maximum Working
Pressure at 68 ºF1

8 psi
0.55 bar

Vacuum at 68 ºF

15.0 inHg

Weight

0.79 lbs/ft
1.18 kg/m

Minimum Bend Radius (MBR)

4.00 in
101.60 mm

Standard Length

100 ft

Temperature Range

-40 to +140 ºF
-40 to +60 ºC

Tube Material

Polyurethane

Applications

Used to remove vapors from gasoline and alternative fuels to recovery system in tank truck operations.

1 Working pressure is temperature dependent.

Polyurethane tube with a sturdy clockwise PVC helix with SΩ ground wire embedded into the hose wall.


Clear visual flow.
-40 ºF cold weather resistance.
Sub-zero flexibility.
Easy to drag with " Go-Glide" external clockwise PVC helix.
SΩ ground wire embedded into hose wall to help prevent the build-up of static electricity.
Use JASON YELLOW banding sleeves only when securing coupling for 3" and 4" ID's.
All sizes may not be stocked in all locations.
We disclaim any liability for use of our products in applications other than which they are designed.
Hoses are constantly being upgraded. Jason Industrial reserves the right to make changes in construction without prior notice.
For In-Plant or Tank Truck Use to Transfer Petroleum Products.
SΩ = Safety Ohm.