Add products to your shopping cart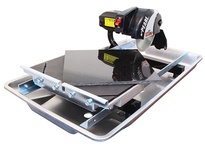 PEARL PA7PRO 7 in. - 3/4HP Tile Saw Box Qty.
Typically ships in: 1 day
Additional Description
7" PRO TILE SAW
7" PROFESSIONAL TILE SAW
Rip cut 20" tile; Diagonal cut 14" tile. Compact (only 33" long), Lightweight (only 42 lbs).
Powerful, high torque 1 HP motor.
Over-sized, heavy duty stainless steel water tray. Provides superior control of water run-off for cleaner work sites.
Rear water feed for minimal over spray.
7" professional diamond blade & water pump included.
Steel frame and cast aluminum components.
One-year limited warranty
INCLUDED WITH SAW: Professional diamond blade, heavy duty stainless steel water tray (high durability tray for heavy-duty jobs), 45°/90° rip guide, universal wrench, water pump, Owners manual.
MOTOR = 1 HP, 115v, 60Hz. 6,350 rpm CUTTING = Depth of cut:  Max. 3-1/4" CAPACITY = Rip cut: 20" x 20" tile.  Angle cut: 14" x 14" tile BLADE CAPACITY = 7" with 5/8" arbor blade WEIGHT = 42 lbs. DIMENSION = (L)33" x (W)18.7" x (H)13".  Water Tray - 37 in. long