IRWIN 1838542 NUTSET IMPACT MAG 1/4" X 1-7/8" BUL
BRAND:

Irwin Tools

| MODEL:
1838542 |
CONDITION:
NEW |
SKU:
2085900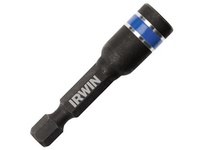 ---
Image for Illustration purposes only,
Actual product may vary
---
Additional Description
Technical Specifications
| | |
| --- | --- |
| Shank diameter | 1/4" |
| Overall length | 1-7/8" |
Description
IRWIN® Impact Performance Series™ lobular nutsetters are built for maximum durability, performance, and long life with impact tools. They are designed to drive the fastener from the side, rather than forcing the corners to turn, maintaining the true shape of the fastener and dramatically reducing breakage and damage from stripping. The lobular design also provides more clearance on the corners of the fastener where paint build-up often occurs. They are available with or without powerful rare earth magnets that hold fasteners securely  in place. They have a black oxide finish that resists corrosion and increases the life of the nutsetter. Plus, with a 1/4" quick-change shank, they're designed to work with all types of impact and rotary drivers.
Lobular design drives fastener on side instead of corner for less stripping and longer life
Rare earth magnets hold fasteners securely with four times the hold of standard magnets
1/4" quick-change shank is designed to work with impact drivers, and reduces slipping in standard drill chucks
Specifications
| Item # | Description | Hex Drive | Socket Body Dia. | Shank Diameter | Overall Length |
| --- | --- | --- | --- | --- | --- |
| 1837533 | Impact Nutsetters - Lobular (1-pc) | 1/4" | 7/16" | 1/4" | 1-7/8" |
| 1837534 | Impact Nutsetters - Lobular (3-pc) | 1/4" | 7/16" | 1/4" | 1-7/8" |
| 1838542 | Impact Nutsetters - Lobular (5-pc) | 1/4" | 7/16" | 1/4" | 1-7/8" |
| 1837535 | Impact Nutsetters - Lobular (10-pc) | 1/4" | 7/16" | 1/4" | 1-7/8" |
| 1837536 | Impact Nutsetters - Lobular (1-pc) | 5/16" | 1/2" | 1/4" | 1-7/8" |
| 1837537 | Impact Nutsetters - Lobular (3-pc) | 5/16" | 1/2" | 1/4" | 1-7/8" |
| 1838544 | Impact Nutsetters - Lobular (5-pc) | 5/16" | 1/2" | 1/4" | 1-7/8" |
| 1837538 | Impact Nutsetters - Lobular (10-pc) | 5/16" | 1/2" | 1/4" | 1-7/8" |
| 1837539 | Impact Nutsetters - Lobular (1-pc) | 3/8" | 9/16" | 1/4" | 1-7/8" |
| 1837540 | Impact Nutsetters - Lobular (3-pc) | 3/8" | 9/16" | 1/4" | 1-7/8" |
| 1838543 | Impact Nutsetters - Lobular (5-pc) | 3/8" | 9/16" | 1/4" | 1-7/8" |
| 1837541 | Impact Nutsetters - Lobular (10-pc) | 3/8" | 9/16" | 1/4" | 1-7/8" |
| 1837542 | Impact Nutsetters - Lobular (1-pc) | 7/16" | 5/8" | 1/4" | 1-7/8" |
| 1837543 | Impact Nutsetters - Lobular (3-pc) | 7/16" | 5/8" | 1/4" | 1-7/8" |
| 1837544 | Impact Nutsetters - Lobular (10-pc) | 7/16" | 5/8" | 1/4" | 1-7/8" |
| 1837545 | Impact Nutsetters - Lobular (1-pc) | 1/4" | 7/16" | 1/4" | 2-9/16" |
| 1837964 | Impact Nutsetters - Lobular (3-pc) | 1/4" | 7/16" | 1/4" | 2-9/16" |
| 1838547 | Impact Nutsetters - Lobular (5-pc) | 1/4" | 7/16" | 1/4" | 2-9/16" |
| 1837546 | Impact Nutsetters - Lobular (10-pc) | 1/4" | 7/16" | 1/4" | 2-9/16" |
| 1837547 | Impact Nutsetters - Lobular (1-pc) | 5/16" | 1/2" | 1/4" | 2-9/16" |
| 1837548 | Impact Nutsetters - Lobular (3-pc) | 5/16" | 1/2" | 1/4" | 2-9/16" |
| 1838549 | Impact Nutsetters - Lobular (5-pc) | 5/16" | 1/2" | 1/4" | 2-9/16" |
| 1837549 | Impact Nutsetters - Lobular (10-pc) | 5/16" | 1/2" | 1/4" | 2-9/16" |
| 1837550 | Impact Nutsetters - Lobular (1-pc) | 3/8" | 9/16" | 1/4" | 2-9/16" |
| 1837551 | Impact Nutsetters - Lobular (3-pc) | 3/8" | 9/16" | 1/4" | 2-9/16" |
| 1838548 | Impact Nutsetters - Lobular (5-pc) | 3/8" | 9/16" | 1/4" | 2-9/16" |
| 1837552 | Impact Nutsetters - Lobular (10-pc) | 3/8" | 9/16" | 1/4" | 2-9/16" |
| 1837553 | Impact Nutsetters - Lobular (1-pc) | 7/16" | 5/8" | 1/4" | 2-9/16" |
| 1837554 | Impact Nutsetters - Lobular (3-pc) | 7/16" | 5/8" | 1/4" | 2-9/16" |
| 1838550 | Impact Nutsetters - Lobular (5-pc) | 7/16" | 5/8" | 1/4" | 2-9/16" |
| 1837555 | Impact Nutsetters - Lobular (10-pc) | 7/16" | 5/8" | 1/4" | 2-9/16" |
| 1837556 | Impact Nutsetters - Lobular (1-pc) | 1/4" | 7/16" | 1/4" | 4" |
| 1838551 | Impact Nutsetters - Lobular (5-pc) | 1/4" | 7/16" | 1/4" | 4" |
| 1837557 | Impact Nutsetters - Lobular (10-pc) | 1/4" | 7/16" | 1/4" | 4" |
| 1837558 | Impact Nutsetters - Lobular (1-pc) | 5/16" | 1/2" | 1/4" | 4" |
| 1838553 | Impact Nutsetters - Lobular (5-pc) | 5/16" | 1/2" | 1/4" | 4" |
| 1837559 | Impact Nutsetters - Lobular (10-pc) | 5/16" | 1/2" | 1/4" | 4" |
| 1837560 | Impact Nutsetters - Lobular (1-pc) | 3/8" | 9/16" | 1/4" | 4" |
| 1838552 | Impact Nutsetters - Lobular (5-pc) | 3/8" | 9/16" | 1/4" | 4" |
| 1837561 | Impact Nutsetters - Lobular (10-pc) | 3/8" | 9/16" | 1/4" | 4" |
| 1837562 | Impact Nutsetters - Lobular (1-pc) | 1/4" | 7/16" | 1/4" | 6" |
| 1838554 | Impact Nutsetters - Lobular (5-pc) | 1/4" | 7/16" | 1/4" | 6" |
| 1837563 | Impact Nutsetters - Lobular (10-pc) | 1/4" | 7/16" | 1/4" | 6" |
| 1837564 | Impact Nutsetters - Lobular (1-pc) | 5/16" | 1/2" | 1/4" | 6" |
| 1838556 | Impact Nutsetters - Lobular (5-pc) | 5/16" | 1/2" | 1/4" | 6" |
| 1837565 | Impact Nutsetters - Lobular (10-pc) | 5/16" | 1/2" | 1/4" | 6" |
| 1837566 | Impact Nutsetters - Lobular (1-pc) | 3/8" | 9/16" | 1/4" | 6" |
| 1838555 | Impact Nutsetters - Lobular (5-pc) | 3/8" | 9/16" | 1/4" | 6" |
| 1837567 | Impact Nutsetters - Lobular (10-pc) | 3/8" | 9/16" | 1/4" | 6" |
| 1837568 | Impact Nutsetters - Lobular (1-pc) | 1/4" | 7/16" | 1/4" | 12" |
| 1837569 | Impact Nutsetters - Lobular (1-pc) | 5/16" | 1/2" | 1/4" | 12" |
| 1838545 | Impact Nutsetters - Lobular (5-pc) | 5/16" | 1/2" | 1/4" | 12" |
| 1837570 | Impact Nutsetters - Lobular (1-pc) | 3/8" | 9/16" | 1/4" | 12" |
| 1837530 | Impact Nutsetters Sets - Lobular | 1/4", 5/16", 3/8", 7/16" | - | 1/4" | 1-7/8" |
| 1837531 | Impact Nutsetters Sets - Lobular | 1/4", 5/16", 3/8" | - | 1/4" | 1-7/8" |
| 1837532 | Impact Nutsetters Sets - Lobular | 1/4", 5/16", 3/8" | - | 1/4" | 2-9/16" |