IRWIN 1899931 40PC POCKET CASE 4PK PH/SQ/TORX/SL
BRAND:

Irwin Tools

| MODEL:
1899931 |
CONDITION:
NEW |
SKU:
2841987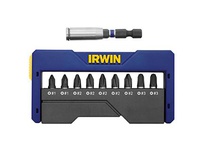 ---
Image for Illustration purposes only,
Actual product may vary
---
Additional Description
Description
While most screwdriving bits are simply compatible with impact drills and drivers, IRWIN® Impact Performance Series™ fastener drive bits are engineered for maximum durability and long life with impact drivers. These bits are forged* rather than milled, so they fit fasteners more precisely, which reduces stripping and increases the life of the bit itself – IRWIN's Impact Performance Series bits have three times longer life than traditional bits. Manufactured with heavy-duty, cold-forged, high-grade steel, they'll withstand extremely high torque output. Plus, a black oxide finish resists corrosion and increases the life of the bit.
Compact, portable design allows for easy transport to and from the worksite and ease-of-use while on the job
Molded ABS resin case holds up to rigors of daily use
Easy-to-read size markings provide simple identification of set contents
Convenient bit holder storage compartment incorporated into top of case (insert bit cases only)
Specifications
| Item # | Description | Contents |
| --- | --- | --- |
| 1866983 | 10-Piece Impact Mixed Set | 1" Impact Insert Bits: PH1, PH2 (2), PH3, SQ1, SQ2 (2), SQ3, T25, Impact Magnetic Bit Holder with C-Ring 2-1/4" |
| 1866984 | 10-Piece Impact Phillips Set | 1" Impact Insert Bits: PH1 (2), PH2 (5), PH3 (2), Impact Magnetic Bit Holder with C-Ring 2-1/4" |
| 1899927 | 10-Piece Impact Square Set | 1" Impact Insert Bits: SQ1 (2), SQ2 (5), SQ3 (2), Impact Magnetic Bit Holder with C-Ring 2-1/4" |
| 1899929 | 10-Piece Impact Slotted Set | 1" Impact Insert Bits: 3-4, 4-5, 5-6, 6-8 (2), 8-10 (2), 10-12, 12-14, Impact Magnetic Bit Holder with C-Ring 2-1/4" |
| 1899926 | 10-Piece Impact TORX Set | 1" Impact Insert Bits: T10, T15, T20 (2), T25 (2), T27, T30, T40, Impact Magnetic Bit Holder with C-Ring 2-1/4" |
| 1899928 | 10-Piece Impact Tamper-Resistant TORX Set | 1" Impact Insert Bits: T10-TR, T15-TR, T20-TR (2), T25-TR (2), T27-TR, T30-TR, T40-TR, Impact Magnetic Bit Holder with C-Ring 2-1/4" |
| 1899931 | 40-Piece Impact Mixed Set | 1" Impact Insert Bits: PH1 (2), PH2 (5), PH3 (2), SQ1 (2), SQ2 (5), SQ3 (2), T10, T15, T20 (2), T25 (2), T27, T30, T40, 3-4, 4-5, 5-6, 6-8 (2), 8-10 (2), 10-12, 12-14, Impact Magnetic Bit Holder with C-Ring 2-1/4" (4) |
| 1899932 | 41-Piece Impact Mixed Set | 1" Impact Insert Bits: PH1 (2), PH2 (5), PH3 (2), SQ1 (2), SQ2 (5), SQ3 (2), T10, T15, T20 (2), T25 (2), T27, T30, T40, 3-4, 4-5, 5-6, 6-8 (2), 8-10 (2), 10-12, 12-14, Impact Magnetic Bit Holder with C-Ring 2-1/4" (4), Impact Magnetic Bit Holder with C-Ring 6" |