Add products to your shopping cart
#28283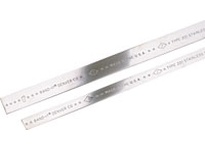 Image for Illustration purposes only. Actual product may vary
Brand:

Band-It

Model:

C20499

Condition:

NEW

SKU:

28283
C20499 Band 201SS/301SS 1/2" x .03" x 100
Typically ships in:

3 days

Weight:

5.0 lb
$79.36 Each
Unit of measure: each
Returnable: See conditions
Payment methods:
Additional Description
BAND-IT Band 201 Stainless Steel,  clamping and fastening with a combination of high strength and quality appearance.  Offers good resistance to oxidation and many moderate corrosive agents.
Now with EASY SCALE, a patented imprint on the band to determine band length.  Eliminates costly waste and complicated measuring by allowing users to quickly and precisely roll out the length of band needed for any clamp.  No more guesswork! 
201 Stainless Steel offers good resistance to oxidation and many moderate corrosive agents
Utilized in general use banding applications
Can be used with clip style buckles to create band clamps
Packaged in a standard box or a durable plastic tote for easy dispensing
Installs easily with the following tools: the Standard Banding Tool (C00189), the Heavy Duty Banding Tool (C00369), the Bantam Tool (C07569), the Bantam Strapping Tool (C08569),the Ratchet Tool (C40099),and Pok-IT II Tool (J02069)
Specifications
201 Stainless Steel
Now with EASY SCALE, a patented imprint on the band to determine band length.  Eliminates costly waste and complicated measuring by allowing users to quickly and precisely roll out the length of band needed for any clamp.  No more guesswork! 

201 Stainless Steel offers good resistance to oxidation and many moderate corrosive agents
Utilized in general use banding applications
Can be used with clip style buckles to create band clamps
Packaged in a standard box or a durable plastic tote for easy dispensing
Installs easily with the following tools: the Standard Banding Tool (C00189), the Heavy Duty Banding Tool (C00369), the Bantam Tool (C07569), the Bantam Strapping Tool (C08569),the Ratchet Tool (C40099),and Pok-IT II Tool (J02069)

Product 
Width
Thickness
Average Breaking Strength (Lbs)
Package & Quantity
Weight
Use with Buckle Type
In.
(mm)
In.
(mm)
Lbs.
Kg
Ear-Lokt
Clip
Scru-Lok
 C20299 
1/4 
6.4 
0.020 
0.51 
500 
Box - 100' Roll 
1.7 
0.7 
 C25299 
None 
C72099
C20399
3/8
9.6
0.025
0.64
900
Box - 100' Roll
3.2
1.5
C25399
L15399
C72299
C203Y9
3/8
9.6
0.025
0.64
900
Yellow Tote  - 100' Roll
3.6
1.6
C25399
L15399
C72299
C20499
1/2
12.7
0.030
0.76
1500
Box - 100' Roll
5.1
2.3
C25499
L15499
C72499
C204B9
1/2
12.7
0.030
0.76
1500
Blue Tote - 100' Roll
5.5
2.5
C25499
L15499
C72499
C20599
5/8
15.9
0.030
0.76
1875
Box - 100' Roll
6.4
2.9
C25599
L15599
C72599
C205G9
5/8
15.9
0.030
0.76
1875
Green Tote - 100' Roll
6.8
3.1
C25599
L15599
C72599
C20699
3/4
19.1
0.030
0.76
2250
Box - 100' Roll
7.7
3.5
C25699
L15699
C72699
C206R9
3/4
19.1
0.030
0.76
2250
Red Tote - 100' Roll
8.2
3.7
C25699
L15699
C72699
Notes
Also available in Mill coil lengths
| | |
| --- | --- |
| Width | 1/2 |
| Length | 100" |
| Material | 201/301SS |
| Thickness | .03" |