Add products to your shopping cart
Chains & Sprockets
Mechanical components used in power transmission and conveying systems to transfer motion and force between rotating shafts in various applications. They are durable, efficient, and capable of transmitting high torque loads. Chains come in different types, including roller chains, silent chains, and conveyor chains, each with unique designs and applications. Sprockets, the toothed wheels designed to mesh with chains, come in various configurations, including simplex, duplex, and triplex sprockets. Chain and sprocket selection depends on factors such as load capacity, operating speed, service life, environmental conditions, and maintenance requirements. Proper selection, alignment, and maintenance are crucial for optimal performance, reliability, and efficiency while minimizing wear, energy consumption, and the risk of premature failure. Chain and sprocket designs continue to evolve, offering enhanced capabilities and improved performance.
Chains & Sprockets BY CATEGORY

Chains
Used in conjunction with sprockets, providing reliable power transmission or motion transfer between rotating shafts in various applications.
Show Chains

Sprockets
Transmits rotary motion between shafts in conjunction with chains or belts for efficient power transmission.
Show Sprockets
Chains & Sprockets BY BRAND
About Chains & Sprockets
Chains and sprockets are mechanical components used to transmit power between rotating shafts in industrial machinery and equipment. They consist of a chain, which is a series of interconnected links, and a sprockets, which is a toothed wheel that engages with the chain. As the sprockets rotates, the chain moves, transmitting power between the two shafts. Chains and sprockets can be used in various types of machinery and equipment, such as conveyors, agricultural machinery, and manufacturing equipment. The advantages of chains and sprockets include high load capacity, low cost, and easy installation and maintenance. Proper selection, installation, and maintenance of chains and sprockets are essential to ensure optimal performance and longevity of industrial equipment.
Chains & Sprockets BLOGS
View all blogs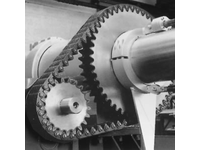 What are the Main Types of Industrial Chains?
READ MORE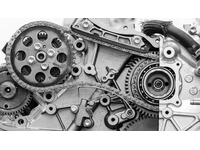 Sprockets Diagnosis: What are the Common Problems?
If you have industrial equipment that requires the transfer of power from one shaft (driving) to...
READ MORE
Chains & Sprockets ARTICLES