Add products to your shopping cart
Adhesives, Sealants and Tape
Adhesives, sealants, and tapes are materials with crucial roles in industrial applications, utilized to join, secure, and seal surfaces or objects, each possessing distinct properties and functionalities. Adhesives form bonds between surfaces by adhering through molecular or mechanical forces, with various chemistries involved in their formulation, such as epoxy, polyurethane, acrylic, cyanoacrylate, and silicone. Sealants are materials designed to fill gaps or joints between surfaces, creating a barrier that prevents the passage of fluids, gases, or other substances, exhibiting paste-like consistency and curing to form a flexible, rubber-like material. Tapes are flexible materials with adhesive layers on one or both sides, used for bonding, securing, or sealing surfaces together, with different types existing, including pressure-sensitive adhesive (PSA) tapes that bond to surfaces under pressure, heat-activated tapes that require heat to activate the adhesive, and water-activated tapes that are activated by moisture. In industrial settings, the selection of adhesives, sealants, or tapes is based on the materials being bonded, environmental conditions, required bond strength, and curing or setting time. Understanding these factors is essential to ensure the proper selection for specific applications.
Adhesives, Sealants and Tape BY CATEGORY

Adhesive Dispensing Equipment
Devices that accurately apply adhesives, sealants, lubricants, and other assembly fluids in a controlled manner for manufacturing processes.
Show Adhesive Dispensing Equipment

Caulks, Sealants and Fillers
Compounds used to repair, close gaps, seal joints, and fill cracks, ensuring airtight and watertight environments.
Show Caulks, Sealants and Fillers
Adhesives, Sealants and Tape POPULAR PRODUCTS
Adhesives, Sealants and Tape BLOGS
View all blogs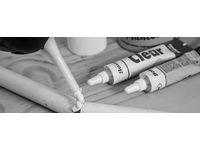 Your Complete Guide to Glues and Adhesives
You have probably heard or used glue at one time, but do you know how it works? This post is a...
READ MORE
Adhesives, Sealants and Tape ARTICLES