IRWIN 1837487 POWER BIT IMPACT #3SQ X 3"OAL 1/CAR
BRAND:

Irwin Tools

| MODEL:
1837487 |
CONDITION:
NEW |
SKU:
2085713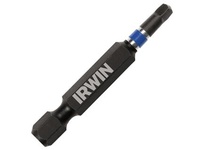 ---
Image for Illustration purposes only,
Actual product may vary
---
Additional Description
Technical Specifications
| | |
| --- | --- |
| Shank diameter | 1/4" |
| Overall length | 3" |
Description
IRWIN® Impact Performance Series™ fastener drive bits are engineered for maximum durability and long life with impact drivers.  These power bits are designed with precision tip geometry  so they fit fasteners more precisely, which reduces stripping and cam-out.  Manufactured with heavy-duty, cold-forged, high-grade steel, they'll withstand extremely high torque output, and the black oxide finish resists corrosion and increases the life of the bit. They're designed with a 1/4" quick-change shank, so they work with all types of impact and rotary drivers.  Plus, they also have a unique Power Groove design for use with the exclusive IRWIN Magnetic Collar Attachment, which prevents fasteners from slipping and wobbling.
Built for maximum durability and long life with impact drivers
Precision tip geometry delivers superior fitment, reducing stripping and cam-out

Power Groove designed for compatibility with IRWIN® Impact Performance Series™ Magnetic Screw-Hold Attachment

Manufactured with heavy-duty, cold-forged, high-grade steel to withstand high torque output

Black oxide finish resists corrosion and increases life of bit

1/4" quick-change shank is designed to work with impact drivers, and reduces slipping in standard drill chucks
*Square and Phillips bits only
**vs. standard screwdriver bits
Specifications
| Item # | Description | Point Size | Shank Diameter | Overall Length |
| --- | --- | --- | --- | --- |
| 1837468 | Square Recess Impact Power Bits (2-pc) | #1 | 1/4" | 2" |
| 1837469 | Square Recess Impact Power Bits (10-pc) | #1 | 1/4" | 2" |
| 1837470 | Square Recess Impact Power Bits (1-pc) | #1 | 1/4" | 3" |
| 1837471 | Square Recess Impact Power Bits (10-pc) | #1 | 1/4" | 3" |
| 1837472 | Square Recess Impact Power Bits (1-pc) | #1 | 1/4" | 4" |
| 1837473 | Square Recess Impact Power Bits (10-pc) | #1 | 1/4" | 4" |
| 1837474 | Square Recess Impact Power Bits (1-pc) | #1 | 1/4" | 6" |
| 1837475 | Square Recess Impact Power Bits (10-pc) | #1 | 1/4" | 6" |
| 1837476 | Square Recess Impact Power Bits (2-pc) | #2 | 1/4" | 2" |
| 1837478 | Square Recess Impact Power Bits (5-pc) | #2 | 1/4" | 2" |
| 1838498 | Square Recess Impact Power Bits (10-pc Bag) | #2 | 1/4" | 2" |
| 1837477 | Square Recess Impact Power Bits (10-pc) | #2 | 1/4" | 2" |
| 1837479 | Square Recess Impact Power Bits (1-pc) | #2 | 1/4" | 3" |
| 1837480 | Square Recess Impact Power Bits (10-pc) | #2 | 1/4" | 3" |
| 1837481 | Square Recess Impact Power Bits (1-pc) | #2 | 1/4" | 4" |
| 1837482 | Square Recess Impact Power Bits (10-pc) | #2 | 1/4" | 4" |
| 1837483 | Square Recess Impact Power Bits (1-pc) | #2 | 1/4" | 6" |
| 1837484 | Square Recess Impact Power Bits (10-pc) | #2 | 1/4" | 6" |
| 1837485 | Square Recess Impact Power Bits (2-pc) | #3 | 1/4" | 2" |
| 1837486 | Square Recess Impact Power Bits (10-pc) | #3 | 1/4" | 2" |
| 1837487 | Square Recess Impact Power Bits (1-pc) | #3 | 1/4" | 3" |
| 1837488 | Square Recess Impact Power Bits (10-pc) | #3 | 1/4" | 3" |
| 1837489 | Square Recess Impact Power Bits (1-pc) | #3 | 1/4" | 4" |
| 1837490 | Square Recess Impact Power Bits (10-pc) | #3 | 1/4" | 4" |
| 1837491 | Square Recess Impact Power Bits (1-pc) | #3 | 1/4" | 6" |
| 1837492 | Square Recess Impact Power Bits (10-pc) | #3 | 1/4" | 6" |