Add products to your shopping cart
#1981193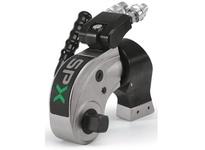 Image for Illustration purposes only. Actual product may vary
Typically ships in:

1 day

Weight:

2.8 lb

Contact supplier for technical support on:

800-477-8326
Add to cart to see a price so low we can't advertise it!
Select Quantity
Unit of measure: each
Returnable:No
Payment methods:
Additional Description
Square Drive Torque Wrench
Quality means Lower Cost of Ownership:
Designed for high cycle life: 2 to 3x more than existing technology
Increased reliability: simple drive assembly means less downtime
Corrosion resistant material used for use in harsh environments
Enhanced Usability:
Compact nose radius allows the tool to fit in tighter, hard-to-reach spaces
Low weight, high strength design
Fast operation, long stroke and optimum flow
Multi-direction high flow swivel manifold
Push button square drive reversal and reaction arm positioning
Push-button release of square drive & reaction arm for all models except TWHC50.
Designed with Safety in Mind:
Fully enclosed drive mechanism for operator safety
Swivel manifold internal relief valve prevents retract side over-pressurization
Fine tooth pawl prevents tool "lock-on"
Handles Sold Separately
The tool's designed long-stroke mechanism imparts a minimum 30 degree nut rotation per stroke while maintaining a tight and compact nose radius: this is a clear advantage over the short stroke and back-up pawl mechanisms of light alloy competitive models. Fewer parts and reduced torsion in operation - equals reduced wear, maintenance and associated costs.
Specifications
Order No.
Min Torque
Max Torque
Square Drive
Weight
lb-ft
Nm
lb-ft
Nm
(in.)
(mm.)
(lbs.)
(kg.)
TWHC1
170
230
1,413
1,915
3/4
19,05
6.2
2.8
Reviews
SKU: 1965710
Spx 9637
found you on line- less expensive then what I was paying, no delivery charge, quick delivery! What's not to like ? Call you in a couple months when I need more.
Read more
Disclaimer: The return policy information shown below is merely a copy of the text as stated in IDC-USA's Annual Return Policy.
File: http://documents.mrosupply.com/file_uploads/IDCreturnpolicy.pdf
ANNUAL RETURN POLICY PURPOSE: The purpose of IDC-USA's Annual Return Policy is to allow IDC Distributors the opportunity to return salable stock merchandise of current design that may not have adequate "turns" and replace it with faster moving product.
ACCEPTANCE: IDC Owner-Distributors shall submit a return list to IDC-USA with all pertinent information as follows:
a. Product brand name
b. Quantity
c. IDC-USA's product identification number
d. Corresponding distributor's P.O. number or invoice number Acceptance of return shall be subject to IDC-USA inventory levels and manufacturer's restrictions.
AUTHORIZATION: The return shall be audited and the IDC Owner-Distributor will receive an approved return list with a Return Material Authorization (RMA) number assigned to it. RETURN DATE: Each owner-distributor shall be assigned a month during which they shall be entitled to make a single annual return.
Product Qualification: All products returned must be:
a. On the current price list
b. In good resale condition
c. In the original packaging
d. Purchased from IDC-USA within 3 years of the return
e. Stock items only; no special order items
f. Only those items which have been approved
VALUE: The IDC Owner-Distributor shall receive a credit not to exceed 5% of the owner-distributor's prior year annual purchases from the IDC Distribution Center. Credit received shall be the actual purchase price or price in effect at the time of the return, whichever is lowest, less applicable restocking charges. Additionally, all annual returns must have a minimum return value of $100.
RESTOCKING CHARGES: There will be a 15% restocking fee unless return is offset by a noncancelable order of equal value to be placed at the time of return. All items received that are not in their original box shall be subject to an additional 15% repackaging fee.
FREIGHT: Returns will be made freight prepaid by the IDC Owner-Distributor to the IDC Distribution Center. The packing slip and all cartons must reference the RMA number. The owner-distributor will be notified of any items received that do not qualify as set forth above. Those items will not be credited and shall be scrapped unless the IDC Owner-Distributor directs otherwise and assumes any additional transportation charges.