IRWIN 53601 ST-1 Straight Flute Screw Extracto
BRAND:

Irwin Tools

| MODEL:
53601 |
CONDITION:
NEW |
SKU:
2089696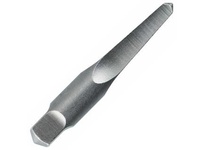 ---
Image for Illustration purposes only,
Actual product may vary
---
Additional Description
Description
Designed for softer materials or thin-walled pieces such as pipes and fittings.
Design eases extraction because it does not expand the material as you remove it.
Removes both left-hand and right-hand threaded parts
Extractor size and recommended drill bit size are etched on each tool.
Specifications
| Item # | Description | Recommended Tap Wrench | Use Drill Size | Removes Bolts & Screws | Package Type |
| --- | --- | --- | --- | --- | --- |
| 53601 | ST-1 | TR-88 | 9/64" | 3/16" - 5/16", 5mm - 8mm, No. 10 | Carded |
| 53602 | ST-2 | TR-88 | 3/16" | 3/8", 10mm | Carded |
| 53603 | ST-3 | TR-88 | 15/64" | 7/16" and 1/8" NPT, 10mm, 1/8" BSP | Carded |
| 53604 | ST-4 | TR-98 | 5/16" | 1/2" - 9/16" and 1/4" NPT, 12mm - 14mm, 1/4" BSP | Carded |
| 53605 | ST-5 | TR-98 | 3/8" | 5/8" and 3/8" NPT, 16mm, 3/8" BSP | Carded |
| 53606 | ST-6 | TR-98 | 15/32" | 3/4" and 1/2" NPT, 20mm, 1/2" BSP | Carded |
| 53607 | ST-7 | TR-98 | 9/16" | 7/8", 22m, 5/8" BSP | Carded |
| 52601 | ST-1 | TR-88 | 9/64" | 3/16" - 5/16", 5mm - 8mm, No. 10 | Bulk |
| 52602 | ST-2 | TR-88 | 3/16" | 3/8", 10mm | Bulk |
| 52603 | ST-3 | TR-88 | 15/64" | 7/16" and 1/8" NPT, 10mm, 1/8" BSP | Bulk |
| 52604 | ST-4 | TR-98 | 5/16" | 1/2" - 9/16" and 1/4" NPT, 12mm - 14mm, 1/4" BSP | Bulk |
| 52605 | ST-5 | TR-98 | 3/8" | 5/8" and 3/8" NPT, 16mm, 3/8" BSP | Bulk |
| 52606 | ST-6 | TR-98 | 15/32" | 3/4" and 1/2" NPT, 20mm, 1/2" BSP | Bulk |
| 52607 | ST-7 | TR-98 | 9/16" | 7/8", 22m, 5/8" BSP | Bulk |